Join me for my free workshop
How I Grew a 6 Figure Business from Just $450
(and how you can too!)
I'm telling you the secrets (even showing you my tax statements) on how I grew a six figure business from a preschool refund in just one year. I'll also reveal my blueprint for starting and growing your own kitchen garden business and finally creating a business in keeping with your passion to not just make money but really make a difference. This class will inspire you to stop stalking entrepreneurs on the internet and start telling your own amazing story that changes the world for the better.
If you enjoy gardening, have interest in the health and wellness space, and dream of starting a company of your own, then you probably already know that there's exploding opportunity in the Garden Coach industry.
You see the upward trend and interest in the local and sustainable food movement, the attention increasingly placed on wellness, and the internet's general obsession with gorgeous photos of just harvested fruits and veggies.
You know you're part of this movement and you're secretly wanting to jump in and claim your stake in this growing industry, make money from your unique knowledge and experience gardening in your local scene, and also know that your work matters and makes a positive difference.
But here's what you might not know:
The garden industry isn't just for university educated professionals.
There's room in here for all of us. And gardening, just like fitness, design, and cooking is an industry that's an art as much as it is a science. While some aspects of the garden industry require certifications, there's a huge gap in the middle of the industry that you can fill because of your knowledge and experience. Truth be told, you likely have way more field experience than many university educated horticulturists. And there's a whole community of people wanting to learn from YOU.
Garden Coaching is THE best way to enter this industry, make a huge difference, and make a significant income.
While landscape companies are a dime a dozen, relatable and inspiring garden coaches are hard to find (at least at the moment). It's obvious the garden industry is booming as more and more products come into the space everyday. But, the missing piece is knowledge, experience, and inspiration. In other words, equipment and supplies can only get your neighbors and city growing so far. What your community actually needs is not another garden business but a GARDEN COACH (YOU!)
If you have knowledge and experience growing fruits, vegetables, and herbs in your particular climate and location and you enjoy sharing that knowledge and experience with others, YOU already have all the qualifications you need to become a GARDEN COACH.
More than anything, coaching is about sharing your experiences and using your knowledge to create plans and solutions for your clients as they begin their own journey into gardening. Garden coaching is THE MOST PROFITABLE way to start a new business in the growing Health and Wellness Industry. And it's the one area of this industry that isn't overcrowded and noisy, at least, not yet.
Even though the reasons to start a Garden Coach Business are a no-brainer, the process involved in creating and marketing one is anything but.
Start a Garden Business? Yep!
But where in the world do I start?
Maybe you've had this conversation with yourself plenty of times before. And in your most courageous moment, you've made the commitment to start.
You've written down your ideas, started doodling your logo, gotten a little daydreamy about plant shopping on someone else's dime, and maybe even googled 'how to register a garden business.'
If you're an overachiever, perhaps you even reserved your business name url, grabbed the Instagram handle, and started planning out your first coaching sessions.
But even with these great first steps, many would-be Garden Coaches end up stalling out on their startup, still waiting for that perfect moment, and yet continuing to see new Garden Businesses popping up on Instagram every month.
Here's why most would-be Garden Coaches never get started:
Without a clear roadmap and step-by-step plan, most would-be Garden Coaches just get lost. They're gardeners after all, not business school grads.
They get stuck on the technical hang ups like business registration, the general business plan for turning a profit, and feeling like it's just too much.
They feel intimidated and think they need more education, more experience, and more connections before they can start.
Here's why this is a bummer:
The Garden Coach Industry is wide open at the moment. There's never been a better time to start working in this field. But things are changing quickly and stalling for years or even months could mean the loss of a huge opportunity.
While experienced gardeners ponder whether or not they should just start this business already, their clients are spending their money somewhere else: trying to learn from a gardener 1000s of miles away, buying plants and synthetic products at the big box stores, or investing in traditional landscapers that don't offer them anything more than sod, a few bushes, and a box with four vegetable plants inside.
Which means…
Even if you're already feeling behind, there's still an amazing opportunity for you to jump in, launch your garden coach business, and claim your spot in this 'good for the world' industry.
5 Reasons Most Garden Coach Businesses Won't Be Successful
REASON 1: They Lack a Product and Profit Plan
Knowing how to garden is one thing. Knowing how to develop a products within the Garden Coach Industry is another thing all together.
If you're afraid to start your Garden Coach business because you're not sure how to structure it, what to offer your client, and how to turn a profit, you're not alone. You can easily end up working like crazy but ending up with less in your bank account than you had to start. Even though gardeners know how to make things grow, growing a business bank account can feel more impossible than getting that picture perfect watermelon at the end of the summer.
REASON 2: They Don't Position Themselves as the Expert
When you feel intimidated or unsure, it's not just you that can sense the insecurity. Your clients and your audience do as well.
We all deal with self doubt and when starting and growing a business of our own, there may be no other instance when insecurities creep in more powerfully. But to flourish as a Garden Coach, you're going to need to show up as your best courageous self, every day. You've got to give your audience and your clients confidence that you know best what to grow and how to grow in their kitchen garden.
It's time for you to see yourself as the expert that you truly are so that your clients trust you, rely on you and ultimately pay you for your expert knowledge and experience.
REASON 3: They Forget Marketing
In the Garden Coach's attempt to save the planet, we can forget that the planet loves commercials, jingles, and catchy taglines. You may very well be the expert on tomato growing in your area (I'm sure you are) but without a good plan to get your name, your business, and your awesome work out to your community (without spending loads on advertising) your Garden Coach business may remain your town's best kept secret.
It's true. Our expertise is in gardening, not marketing. But, as the experts say, we are all marketers. And the Garden Coach business without a marketing plan is soon to be a closed Garden Coach Business.
REASON 4: They're Convinced it Won't Work
There's no such thing as a pessimistic gardener and there's also no such thing as a pessimistic Garden Coach. Like they say on the court: You Gotta Believe.
'This won't work in my climate.'
'This won't work at this price point.'
'This won't work in this culture.'
The Garden Coaches who can only see the barriers to their company's success in a particular spot are the ones who are stuck gardening in their own backyard. Kitchen gardens belong in every stage of life from preschool to nursing home and in every aspect of life from churches to schools to office parks to playgrounds. There are thousands of places just waiting for kitchen gardens and Garden Coaches to run them. But the pessimistic gardeners won't be the ones getting paid to do it.
REASON 5: They're Not Connected
Building a garden alone is tough. Building a Garden Coach Business alone is even tougher. Connections are everything in this industry. You need connections to established Garden Coaches, to providers in your area, to industry gatekeepers and more.
The Garden Coaches that are growing their business all alone are often the ones you hear about for a while and then eventually: crickets. (Crickets in the garden is never a good sound, right?)
Everything is more fun and anything is more possible with friends and connections. Building a Garden Coach business requires a community of mentoring, support, and resourcing.
But after creating my own successful Garden Coach Business, I know it doesn't have to be this way. Which is why I created the
KITCHEN GARDEN COACH SOCIETY
THE COMPLETE GUIDE TO SETTING UP, MARKETING, AND IMPLEMENTING YOUR OWN GARDEN COACH BUSINESS
AND
THE ESSENTIAL MEMBERSHIP TO THE GARDENARY CIRCLE FOR ENSURED KITCHEN GARDEN BUSINESS COMMUNITY SUPPORT, VISIBILITY, & SUCCESS
KITCHEN GARDEN COACH SOCIETY
is the only program of its kind that:
1. gives you a product and profit plan that you can implement right awaY
2. gives you expert certification by a recognized leader in the industry
3. PROVIDES A CLEAR MARKETING PLAN AND GIVES YOU THE TOOLS YOU NEED TO EFFECTIVELY AND AFFORDABLY MARKET YOUR BUSINESS
4. PROVIDES ONGOING MENTORSHIP TO HELP YOU TROUBLESHOOT SETBACKS AND KEEP PUSHING FORWARD FOR PROFITABILITY AND SUCCESS IN YOUR BUSINESS
5. WELCOMES YOU INTO THE LEADING ONLINE GARDENING PLATFORM, INSTANTLY ALIGNS YOU WITH HUNDREDS OF OTHER GARDEN PROFESSIONALS, AND ENSURES YOU'LL NEVER FEEL ALONE AS YOU BUILD YOUR BUSINESS
I've taken everything I've learned from building a six figure kitchen garden business from scratch and built it into this comprehensive, step by step implementation program that not only teaches you the plan to create a profitable business but also gives you the community and platform to make it possible.
KITCHEN GARDEN COACH SOCIETY ISN'T SO MUCH A TRAINING PROGRAM AS IT IS AN IMPLEMENTATION PROGRAM
Yes, you will learn the the step by step to setting up, marketing, and building your own Garden Coach Business but you'll also be connected to the Gardenary platform.
The end result?
An incredibly profitable lifestyle business that you can run from your own garden, on your own schedule and create lasting good and change in your own community.
HERE'S HOW IT ALL BREAKS DOWN:
Kitchen Garden Coach Society turns your garden passion into a profitable business that does good for your city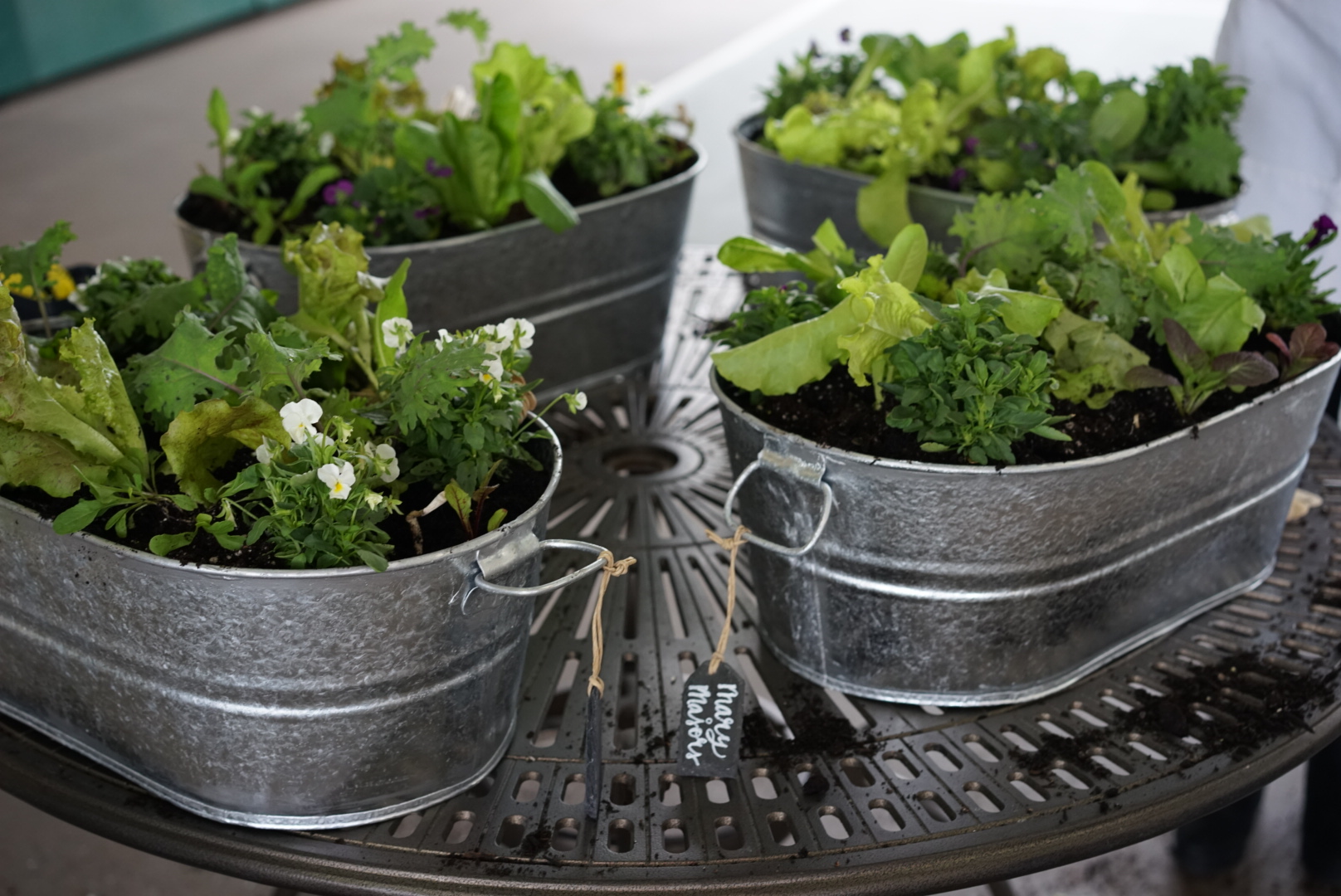 BUSINESS SETUP & MARKETING
Setting up a business from scratch is no small feat. And finding clients isn't a small task either. Learn the step by step for both as you start Kitchen Garden Coach Society.
GARDEN CONSULTING & COACHING
The key product you're selling is your garden knowledge and expertise. Learn how to share that with clients and guide them in their own gardening journey. And make a profit while doing so.
INSTALLING & MAINTAINING GARDENS
The relationship with your client has just begun with a coaching session. Learn how to keep clients for life and serve them and their garden season after season
Join the Kitchen Garden Coach Society
You'll be able to pay yourself back with just a few consults, workshops, or garden installations. And did we mention it's a tax deductible expense?
THREE WAYS TO JOIN